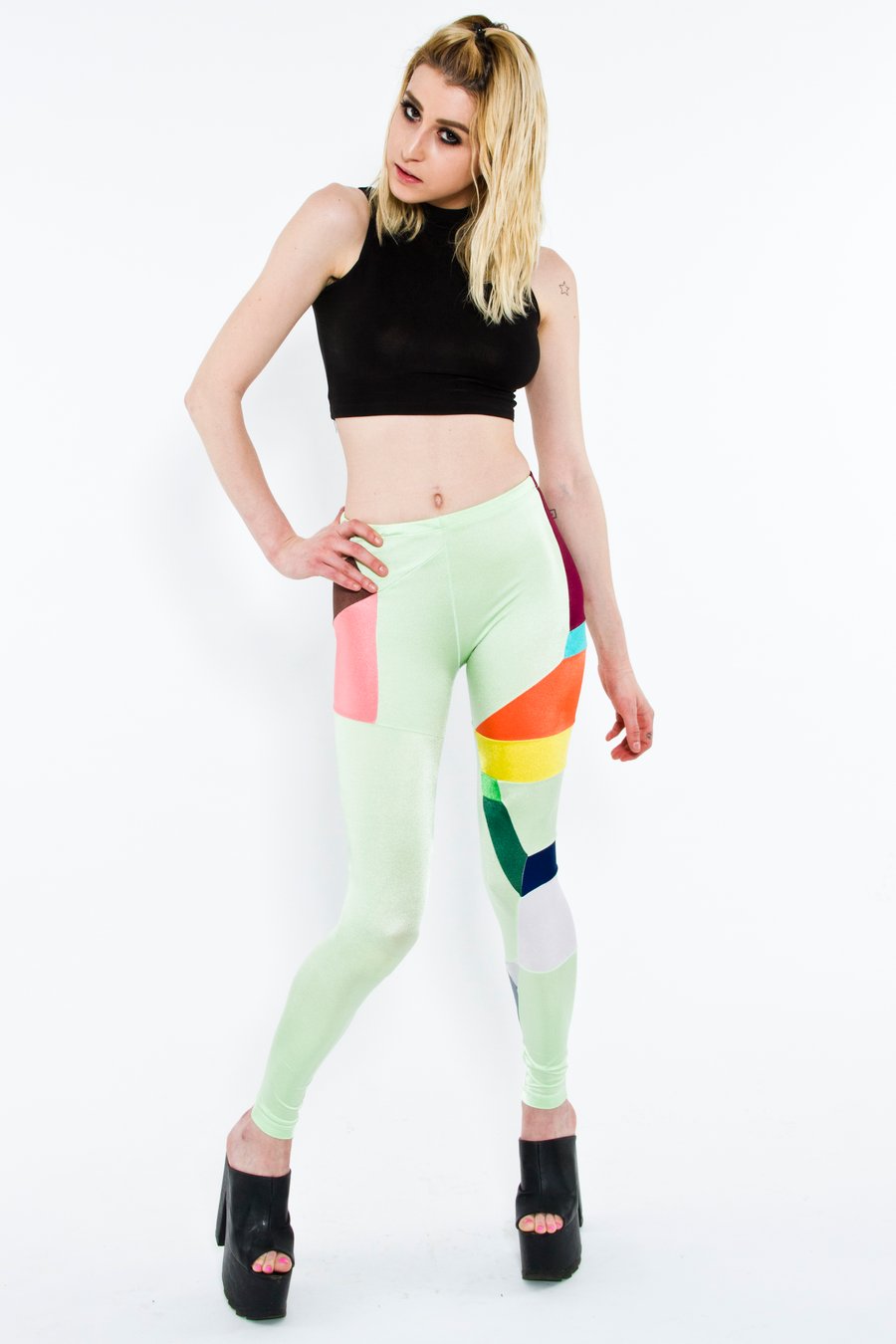 Electrical Wire Leggings, unisex, small medium or large
$

120.00
Hello world, meet our brand new 'Electrical Wire Leggings' by Ruffeo Hearts Lil' Snotty. Classic fit leggings made from light green athletic spandex, and multi-colored panels. From the FOAM Capsule Collection for summer 2014!
The Electrical Wire Leggings are very very new, very very rare, limited addition run of 6.. New updated fit: extra taper at the small of the back to accentuate booty shape Curve added to seat to flatter backsides of all varieties.
Available in small, medium or large.
The Electrical Wire geometric paneling is inspired by the mechanisms that build, the palette of a hardware store, mops, vises and of course the fantastic neon pastel of electrical wires.
Standard fit leggings with a small amount of room added to thighs and booty. Also 2 inches of length is added to the ankle to allow leggings to gather and give the effect of pants. These leggings are more than leggings, they are high fashion couture - made in small runs right here in Brooklyn NY. So wear them to work with a blazer, the dance party with a monochrome tank, gallery opening, your next date orrrrr the gym!
Men.. on that date tip, wear these leggings and your special person will either fall head over heals for you and if they don't.. They don't deserve you! Real men wear leggings!
Ready to ship in Small and medium, Large constructs and ships in 2-5 weeks.
Pssst! - Also available as a lined bodysuit! See our main shop for Telescoping Boom Bodysuit and many more FOAM debuts!
Dedicated to you with love! Enjoy our new brand new Summer Capsule Collection: FOAM!
xo
Ruffeo
FOAM [fōm]
Inspired by the pallet of a hardware store, FOAM embarks on the possibilities of combining the neon pastels of styrofoam siding, electrical wire, insulation, sheetrock, and mop into a tight selection of modular over sized bodies and spandex wear.
RHLS uses pieced-work technique. Rather than silk screen or sublimation print the Foam arrangement appears by combining multiple cut and sewn panels. The result is a graphic that will not fade with washing and maintains its luster for YEARS. The highest quality construction FOAM garments are made with pride in Brooklyn NY.